If we were all aware and educated about a certain style of exercise that can benefit your lungs, heart, strengthen your bones and improve your balance and at the same time help you lose the weight you have been trying to lose for ages, we would all want to try it, yes?! Studies that have been done have shown that strength training can give us all this and more!
Is strength training and weight training the same?
Strength training that is also known as weight training is designed to improve our fitness by exercising a particular muscle or muscle group against resistance, and using free weights or weight machines, or even your own body weight as resistance is great way to start.
People think that strength training is something only body builders do, but this is untrue. Doing regular strength training helps prevent the natural loss of lean muscle mass that occurs when we age. Strength training is such an important part of our overall fitness and benefits so many people of all ages and fitness levels, and especially those that have health issues such as a heart condition, arthritis or even obesity.
It is also important to understand that you are never too old to start strength training. With the correct medical screening and the correct programme tailored especially for you, strength training can offer such wonderful benefits to you that can improve your bone density and muscle mass, increase your health and functionality long term.
How does strength training help your health?
Makes you stronger. This is obvious to some, but not to all. Having good muscle strength is crucial in making everyday tasks that we undertake easier for us. Strength training involves toning and strengthening your muscles by contracting them against a resistance force.
Helps protect our bones and muscle mass. As we age, we start losing our muscle mass, and this can start as early as in our 30s. Just doing 30 minutes of strength training twice a week has been proved to improve your function as well as improve and preserve bone density, strength and power which is essential for our bone's health.
Helps keep our weight stable. Many people believe that aerobic exercise like running, walking, and cycling is the best way to help shift those pounds, but strength training also plays a vital role for weight loss as it helps increase your metabolism, which helps burn calories even when you are resting.
Improves body mechanics. Good posture is so important and strength training can help with your coordination, balance, and posture. Your balance is dependant on the strength of your muscles to keep you steady on your feet, so the stronger your muscles, the more balanced you are, which will help prevent falls.
Helps with chronic disease management. For many with chronic health conditions, such as arthritis, strength training can be as effective as some medications in decreasing your pain.
Helps our energy levels and our mood. While we train our level of endorphins rise which is a natural energy and mood boost. Studies have shown that that strength training has a really positive effect on our brains and aids better sleeping too.
Cardiovascular benefits. Strength training greatly improves our blood pressure and doing this training twice a week will help reduce hypertension and lower the risk of heart disease and diabetes.
How to add strength training to your routine?
If you have any health issues, maybe a chat with your doctor or a physiotherapist first would be a good idea before you get started and working with a physiotherapist who can do a tailored programme to your needs can be very beneficial too, especially in the early days of your new training regime.
If you are looking to start adding strength training into your exercise programme you do not need an expensive gym or weight machines. Using aids that we have at home is a great start. Using the back of a chair to do squats or the wall to do press ups is a good way to start. Theraband and dumbbells are a great adjunct to any strength training programme.
It is also important to bear in mind that if you have had an injury in the past, seeing a physiotherapist will help ensure that you are doing the correct strength training programme, to aid recovery and to ensure no further injury will occur. Having a tailored personalised programme for your individual needs will help get you started.
Some examples of simple exercises you can do at home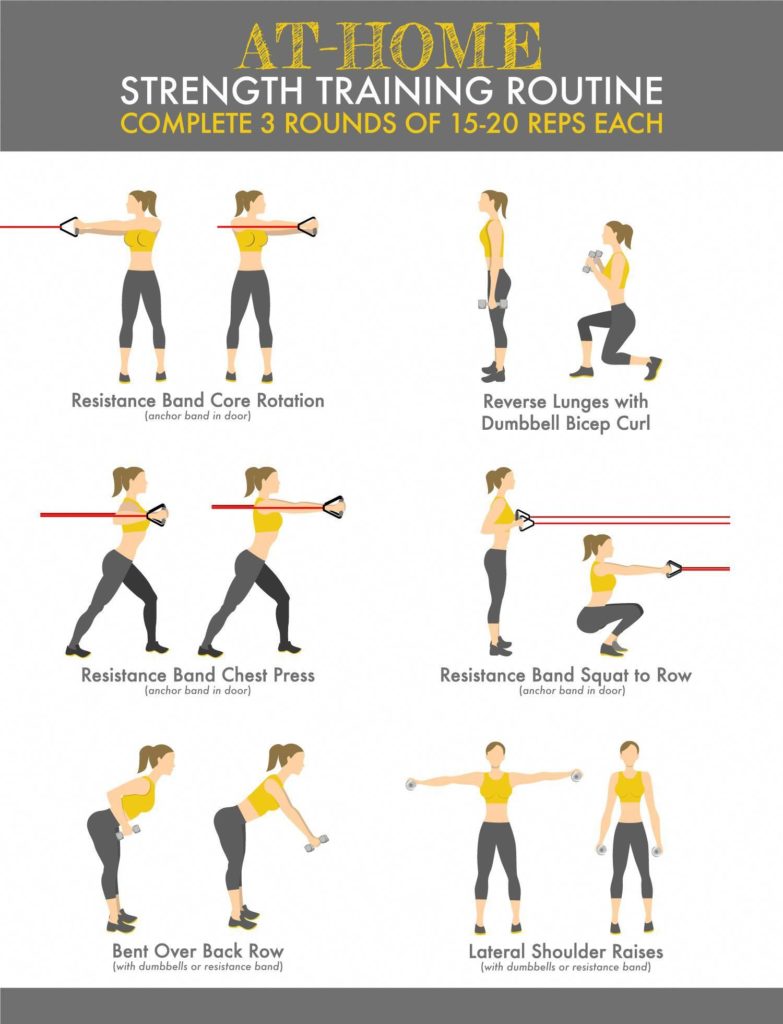 If you would like more information on how we can help you, please contact Home Physio Group on 0330 335 1016 to talk to a friendly member of our team.