There are so many milestones that your baby will reach, and us as parents just love to see all these achievements, but watching your baby crawl for the first time is a moment that as a parent you will never forget.
All babies crawl at different ages, but the average age can be from 6 months to 14 months old. As parents we are always anxious for the next milestone and we monitor our baby's development from day 1. But you must remember that all babies are different, and all go at their own pace and follow their own path.
Do not worry if your baby is late to crawling. There is no conclusive evidence that if a baby crawls early they will become stronger or smarter later on in life. Let your baby develop at their own pace, but there are certainly some steps you can do with your baby to help them along their way.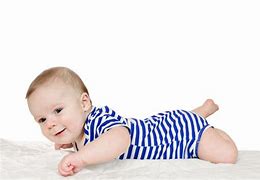 Babies love to play on their tummies. It helps develop their muscles in their legs, arms, back and neck which is very important in their development to help them to crawl. Try to do this twice a day, even if it is for a few minutes at a time.
Encourage your baby to play with their hands when they are elevated. A great way to develop your baby's fine motor skills
Lifting them off the floor. By picking your baby off the floor and placing your hands under their armpits, it gives them just enough support, but still leaving their feet on the ground. It will allow your baby to practice the motion of walking, and in time help strengthen their legs
Babies love to play in front of a mirror. Their curiosity is such fun to watch and they will want to investigate their own reflections which will then lead them to reach out to the mirror to touch themselves. This motion will really help your baby develop their core muscles
Placing their favourite toy just out of reach to them. Place your baby on their tummy and put a toy just out of their reach. This will encourage them to reach out and try to grab it, a great way to strengthen all the right muscles to get them crawling
As much as possible, try to keep your baby out of their pram, high-chair or bouncy seat when at home. All these will help support your baby without them having to try themselves and engage their own muscles. The more they try to support their own body by playing on the floor on their backs, stomachs, or in a seated position, the quicker they develop the muscles for crawling and walking.
When doing all of the above with your baby, if your baby becomes tired or agitated during this playtime, put them back on their backs or hold them for extra cuddles. It is very important that your baby has a positive association to tummy time, so if they not enjoying it, time for cuddles instead and try again another day.
Keeping it fun is key. The first time you see your baby crawling around your house, is a moment you will never forget, but it is also time to baby proof your home as once they are on the move there will be no stopping them!
If you feel your baby would benefit from seeing one of our highly trained and skilled paediatric physios for help on their physical development, please call Home Physio Group on 0330 335 1016 to speak to one of our friendly and professional team members for advice and to see how we can help you.