The summer holidays are over and your children have returned to school. But have you thought about their backs and their delicate shoulders and necks that have to deal with the stresses of carrying heavy books?
Your child's skeleton is still growing, and therefore it is extremely important to consider the impact of having a heavy bag that puts unnatural forces on your child's spine. By children carrying their bag on one shoulder or by simply carrying a heavy bag, it can lead to current but also long term childhood musculoskeletal problems, as the spine is heavily compressed and the alignment of the vertebral column could be disturbed.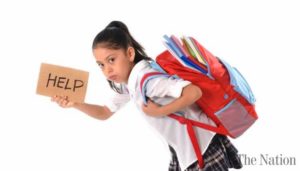 Here are some recommendations when thinking about school bags:
Ensure that the school bag weighs no more than 15% of your child's weight.
Schoolbags should be well designed, and have comfortable and adjustable straps which are wide and padded.
The back should also be padded and the bag should have a number of dividers to balance out any heavy objects.
A waist belt may help to distribute the weight more evenly across the body.
If your child leans forwards, the chance is that the bag is too heavy or uncomfortable possibly due to it being packed incorrectly. This only encourages your child to develop poor posture.
If your child has a bag on wheels, it is recommended that they alternate their use of their arms when wheeling it. Such a bag may put less pressure on the spine but it can also be an inconvenience with going up and down the stairs.
Encourage your child to only carry books that are required for the day.